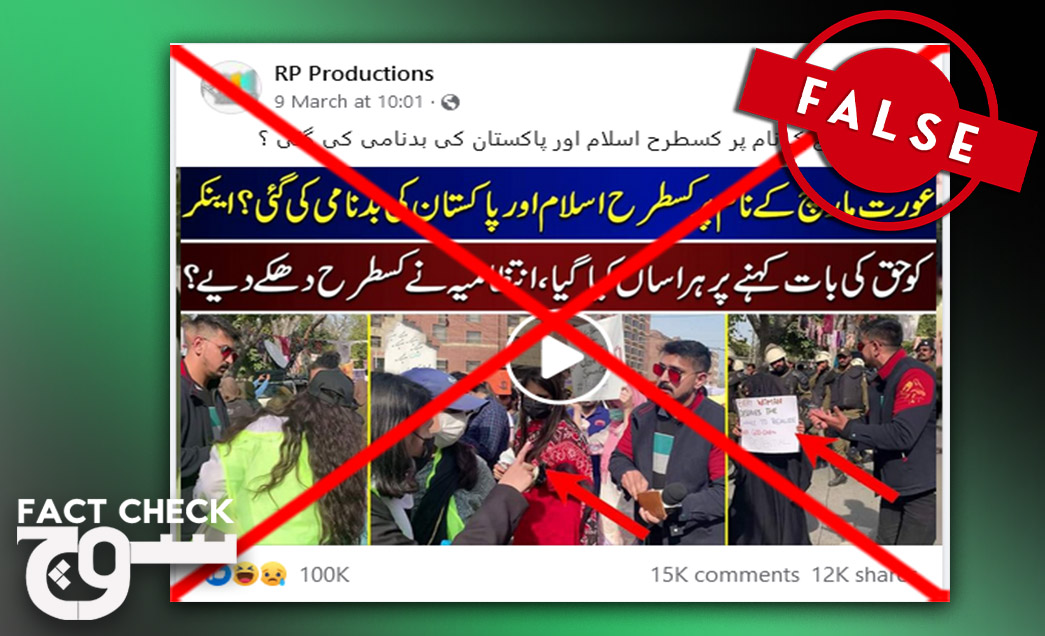 Clickbait report wrongly accuses Aurat March organizers of harassing journalists
Male anchor without media pass denied entry
Claim: A Facebook page posted a video with a headline that translated into English read, "How Islam and Pakistan were defamed in the name of Aurat March." The video appears to depict a reporter trying to interview people but being barred from doing so by Aurat March organisers. Text on the cover image of the video claimed that the reporter was pushed and harassed by the organising committee.
Fact: Organisers declined interviews and informed participants not to speak to the reporter in question as he did not have a media pass. The video did not feature any defamatory slogans or posters about Islam or Pakistan. Moreoever, the video does not show the social media reporter being  harassed or pushed by members of the Aurat March's organising committee in Lahore.
On 9 March 2022, Facebook page RP Productions posted a video report from the Aurat March Lahore, which took place on 8 March. The clip's caption stated:
"عورت مارچ کے نام پر کسطرح اسلام اور پاکستان کی بدنامی کی گئی ؟
[Islam and Pakistan were defamed in the name of Aurat March]"
Aurat March is an annual demonstration that takes place on International Women's Day in various cities of Pakistan. It is often targeted by disinformation campaigns that fuel backlash against the event and put the lives of those associated with it into jeopardy. Soch Fact Check investigated the video as it appeared to be misleading and was flagged by multiple Facebook users.
Fact or Fiction?
The organisers of Aurat March's chapters across Pakistan issue media passes beforehand to outlets wishing to cover the event in a bid to stop the spread of disinformation. On 3 March 2022, Aurat March Lahore shared on Twitter detailed information about reporting and ethical guidelines for media outlets wishing to cover the event.
The reporting guidelines were provided in a registration form.
On 7 March 2022, the official account of Aurat March Lahore posted an image of media passes with the caption, "Only speak to media personnel with this authorised media pass. In case of any misconduct, please report it to a volunteer near you."
The anchor in the video persistently poses questions to participants even after their refusal to speak to him. He was not harassed or manhandled by any organiser as claimed in the video clickbait but was denied interviews as he did not have a media pass.
RP Productions posted more videos here and here in which the same journalist is seen at Aurat March Lahore. A disinformation campaign against the Aurat March Lahore can be seen in more videos where women are accused of obscene dance and claim of turning camera off during interview. The misleading clickbait of all these videos is not associated with the videos in any form.
Soch Fact Check also reached out to Aurat March Lahore who verified that while the people seen in green jackets in the video are members of the Aurat March organising committee, they did not push or harass anyone at the March. According to the committee member, 'negative coverage is fine. We vet those who register to weed out those who basically spread false news. However, RP productions did not register for media pass.'
The headline is also misleading because there is no evidence of anyone at Aurat March Lahore defaming Islam or Pakistan.
Virality 
A CrowdTangle analysis of the video link showed that the video gathered more than 127,000 interactions, with over 101,000 reactions, 15,000 comments, and 3.4 million views in the period from 9 March to 15 March. It was also shared in public groups 'Gnn News', 'Pakistan Army and ISI', and '92 HD Live', among many others.
Conclusion: The claim that a reporter was harassed and denied entry to the Aurat March is misleading. The reporter not permitted to conduct interviews because he did not have a media pass. The video in question did not feature any defamatory slogans or posters about Islam or Pakistan.