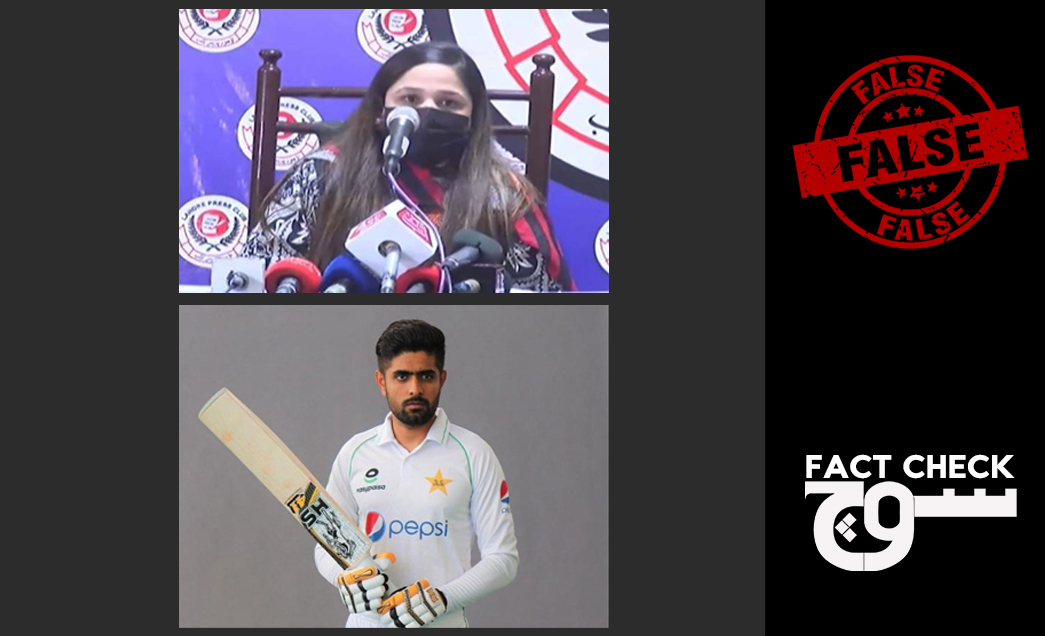 Case against Babar Azam has not been dismissed
Claim: All allegations of sexual assault and fraud against Babar Azam have been proven false in court and the case against him has been dismissed.
Fact: Court proceedings are ongoing, no allegations were proven as false and none of the petitions were dismissed.
On 5 Dec 2020, false information about the sexual harassment case against Babar Azam spread on Twitter and digital media. Hamiza Mukhtar, one of Baber Azam's ex-partners, had previously filed two petitions against him— one for harassment and the other regarding police refusal to register an FIR charging him with forced abortion and false promise of marriage to manufacture consent. Several misleading tweets surfaced regarding this case. A headline put out by an online publication called the Times of Islamabad read, "Good news for the Pakistani skipper Babar Azam over sexual harassment scandal case."
Some tweets and the Times of Islamabad article claimed that a judge of the additional sessions court dismissed Mukhtar's case on grounds of fake evidence. Some tweets even claimed that the submitted evidence was proven false by the Punjab Police, including a cricket journalist with a significant following and a verified account, his tweet reached over 3000 people. These claims were also reported by the Express Tribune.
There are currently two cases against Babar Azam in court. Hamiza Mukhtar's legal counsel, Advocate Touqeer Khalil and human rights lawyer and activist, Imaan Hazir-Mazari, told Soch that one of the cases is still going on, while the other has been disposed of and the relevant authorities were directed by the court to restrain Azam and family from harassing Hamiza Mukhtar. Mazari also provided us with the documents containing the court orders for both cases as of 4th and 5th of December, respectively.
Case 1
Khalil clarified that there were two cases filed by his client against Babar Azam. The first case was regarding refusal by the police to register an FIR on her behalf. Hamiza Mukhtar has been trying to get an FIR lodged against Babar Azam on the grounds of forced abortion and deceitful cohabitation through manufacturing consent under a false promise of marriage. However, the police refused to cooperate, afterwhich Mukhtar filed a petition requesting the court to direct the authorities to take appropriate measures.
Mazari explained, and Khalil concurred, that the case which was scheduled to be heard on 4 December was for Hamiza Mukhtar's petition against the refusal of the police to register an FIR. Mazari added that the court was adjourned until 14 Dec, due to the absence of the Learned Presiding Officer.
Khalil was interviewed on the day of the hearing and in this video on Facebook, he explained the Judge's absence due to Covid-19 and clarified that the police have been asked to complete their statement on 14 Dec 2020. He also explained to us that the charges his client is levelling against Babar Azam are of isqat-e-hamal, under Section 338 of the PPC and for manufacturing consent under a false promise of marriage, Section 493(A) – cohabitation caused by a man deceitfully inducing a belief of lawful Marriage. He also added that as the case goes on and arguments are held in court, other charges relevant to his alleged misdemeanor may be added to Babar Azam's record. In this video Khalil charted out the route of the investigation and explains the nature of evidence that Hamiza Mukhtar has submitted to the court. In the hearing that took place on 14 December, the police partially completed their statement and the arguments were to be concluded on Wednesday, 23 December 2020.
Case 2
The second court case pertains to accusations of sexual harassment and intimidation made by Hamiza Mukhtar against Babar Azam and his family after she sought judicial remedy to Azam's past treatment of her.
This case, heard on 5 December 2020 by additional sessions judge, Abid Raza was a sexual harassment petition, filed against Babar Azam, his father, cousin and other family members involved in threatening and blackmailing Hamiza to prevent her from proceeding with the case. The Punjab Police were also cited as complicit in the petition.
During the previous hearing of this case, the court ordered the SHO to respond to this allegation by 5 December 2020. In response to this, Khalil clarified that the police presented an incomplete statement since the arguments are still ongoing in the court. Excerpts of this statement were published in the Express Tribune and Times of Islamabad, where they were used to misrepresent the court decision as a victory for Babar Azam. Moreover, The Express Tribune's headline states that police have 'disproved' harassment allegations against Babar Azam— this is not true as the court issued the order to restrain Babar Azam and his family from harassing Hamiza Mukhtar. Khalil also explained the details of this case in a video posted by Hamiza Mukhtar on her Facebook page.
On 5 Dec 2020 petition 28299/2020 was argued, which was filed by Hamiza Mukhtar against the SHO and Babar Azam's family members for intimidation.
Speaking to Soch Fact Check, lawyer Imaan Mazari explained that the judge ordered the defendants to be directed and restrained from harassing the complainant and the petition was "disposed off," which means it was not scheduled by the court for another hearing because the final verdict on the case was given. This information was manipulated to say that the case was "dismissed" by the court in the claims mentioned.
Below is an excerpt from the court order.
Background
Hamiza Mukhtar from Lahore, in a press conference on 28 November 2020 claimed that Babar Azam sexually exploited her by manufacturing consent through a false promise of marriage.She also claims Azam physically assaulted her and subjected her to a forced abortion. During this press conference she showed physical copies of medical reports, documents, WhatsApp chats and phone logs which allegedly prove their association and show evidence of physical assault as well as abortion. However, the police refused to cooperate when she tried to file an FIR against him.
She is currently pursuing two cases against the cricketer as explained in this article. One for the Registration of FIR which is ongoing and another for sexual harassment, in which case court has issued directions to relevant authorities.
Summary:
Misinformation regarding the petitions filed by Hamiza Mukhtar claimed that the case had been dismissed by a judge of the additional sessions court and the allegations against Babar Azam were proven false by the police. However, Soch Fact Check discovered these claims to be false. We spoke to Hamiza Mukhtar's legal counsel Touqeer Khalil and human rights activist and lawyer Imaan Mazari for further clarification. In the case regarding sexual harassment, the court has directed the police to restrain Babar Azam and family from harassing Hamiza Mukhtar. The case regarding the Registration of FIR is currently proceeding in court.