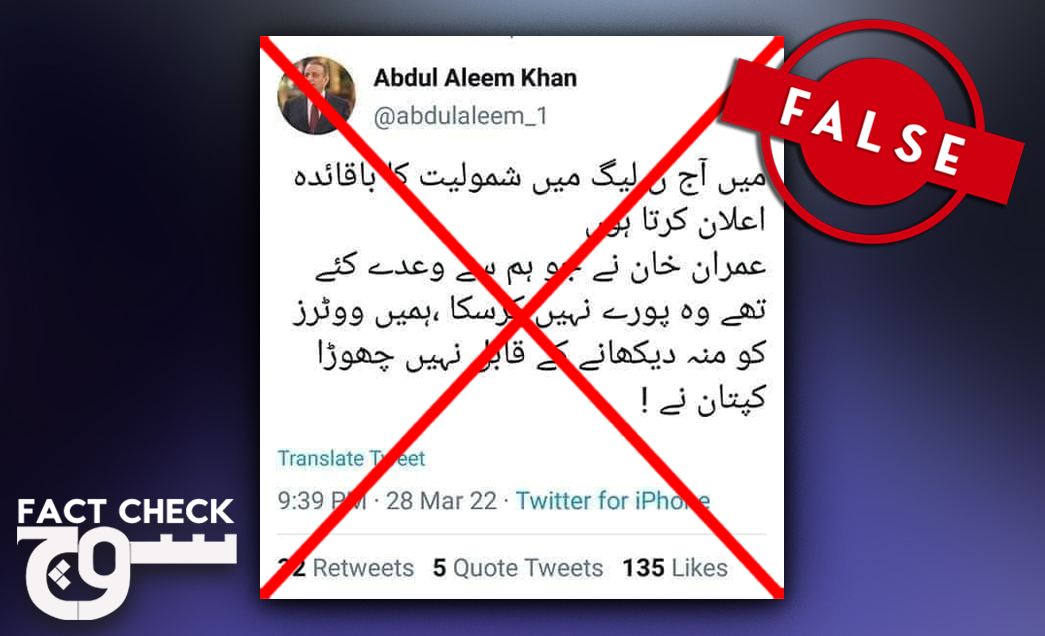 Aleem Khan has not joined PML-N
Twitter account @abdulaleem_1 does not belong to Aleem Khan
Claim: Punjab politician Aleem Khan announced in a tweet that he would be joining Pakistan Muslim League-Nawaz (PML-N).
Fact: Aleem Khan has not announced that he is joining the PML-N.
A Twitter account, with the handle @abdulaleem_1 and bearing a picture of Pakistan Tehreek-i-Insaf (PTI) dissident member Aleem Khan, posted a tweet at 9:39 PM on 28 March 2022 that stated, "Today I formally announce joining N-League [PML-N]. Imran Khan could not keep the promises he made with us. He hasn't left us worth showing our faces to the voters!."
However, @abdulaleem_1 does not in fact belong to Aleem Khan and appears to be impersonating the politician. Aleem Khan's real account with one million followers has the Twitter handle @abdul_aleemkhan. The account was verified until recently when the politician removed "PTI" from his username.
Aleem Khan has not said anything about joining the PML-N on his official account. 
News reports have been published about the possibility of Khan joining the PML-N but neither him nor the PML-N have made any formal or informal announcement about it.
The Twitter account that impersonated Khan has now changed its handle to @kuri_Punjabi1 shortly after posting the tweet in question, which has been archived here. The tweet has been retweeted more than 1,000 times and has over 6,200 likes.
A Facebook search with the text from the tweet showed that a screenshot of the tweet has been shared extensively, including here, here, here and here. A complete result of the search can be accessed here.
The user of the Twitter account impersonating Khan kept changing their username and/or handle while Soch Fact Check was writing this report, as can be seen in the screenshots below:
Conclusion: Aleem Khan did not announce on Twitter that he will be joining the PML-N. The screenshots of a tweet suggesting otherwise are misleading as the tweet was posted by an account impersonating the politician.